Evaluation Blue Print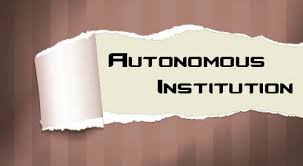 Under autonomy status, the college opts semester pattern. Each academic year has two semesters.
Each semester has two mid term examinations, to assess the academic performance of the students.
At the end of the each semester, semester end examination will be conducted


Each paper totaling 100 marks, spread into

Attendence 5 marks

Overall performence 5 marks

Mid Term examinations 20 marks

Semester end examinations 70 marks


1.The mid term examination answer scripts are valued by the concerned lecturer. The semester end examination scripts are valued by external examiners from other colleges.

2.Examinations dates are given in the academic calendar. Examination time table in displayed on students notice board well in advance.

3.Syllabus, Questions paper pattern are communicated to the students well in advance.

4.Results are made available to the teachers for analysis and necessary action.

5.Results are declared normally within 30 days, as for as possible.